When it comes to considering a care home for yourself or members of your family, it's very common to compare what experiences will be like when living independently or in a home. A lot of the time, people talk themselves out of their need for a home, but it's vital to remember the importance of a care home and what they can provide.
The fact is, Notaro Care Homes can help with a wide-range of needs beyond just providing a positive health influence on residents. Our care homes are also good for reducing loneliness, giving peace of mind to families, safety, end-of-life care, mental wellbeing, day trips, and much more.
Care homes in general also provide plenty of societal benefits, like reducing the stress on local GPs, hospitals and emergency services, as your care is our top priority 24/7.
What Notaro Care Homes can offer
So, what makes Notaro Care Homes so special? Across our care homes, we can offer specialist care for needs. At just one of our care homes, Clarence Park, we can offer care for:
Alzheimer's
Cancer care
Motor Neurone disease
Parkinson's
Stroke
Multiple sclerosis
We always like to say a happy day is a day well spent, that's why at Notaro Care Homes, you'll often find residents going on supervised day trips or holidays, particularly down to the coast, as well as daily activities suited to their likes and dislikes to make the day engaging.
Mental health is also a massive factor for us at Notaro Care Homes, that's why our care plans are totally flexible to suit a resident's happiness and independence. Whether our support workers are needed for daily assistance, or simply for a chat and cup of tea, we're here to help.
Across our homes, we have many modern care activities. For example, at La Fontana Dementia Nursing Home, our residents can reminisce in a specially designed room of shop fronts or visit our scenic sunroom to enjoy an ice cream with beach huts and a seaside panorama.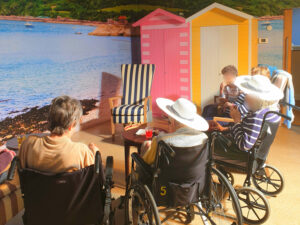 Many of Notaro's homes even have animal barns, where residents can help care and cuddle up to incredibly cute creatures. We're extremely proud of our barns, as these exhibit a range of health benefits for residents, both physical and mental.
Finally, all of our homes offer respite care, so if you or a loved one would like a temporary stay with us to see how they'd get on in our care, don't hesitate to get in contact with a home manager.
We also offer care across three homes for alcohol-related brain damage (ARBD). For more information on these homes and the care we can provide, please visit: http://www.arbdcare.co.uk
Get in touch on 01934 317586 for more information.
Summary
Description
Publisher Name
Publisher Logo