At Notaro Care Homes, we care because we care – it's simple.
We believe that becoming a member of the Notaro Care Homes team shouldn't just depend on your experience and qualifications, but also personality traits including empathy, honesty, and patience, which is why we look for that in applications we receive, and welcome individuals with any level of experience to apply to join us!
As a staff member of any Notaro Care Homes, you will be put through a thorough induction – meaning each and every member is equipped with the necessary training and confidence to do their job to the highest of standards, including completing the Care Certificate.
A career in care doesn't have to mean getting stuck into the personal care of residents, and you can still be a part of the Notaro Care Homes team if this isn't your cup of tea! From auxiliary roles such as gardening to kitchen work to admin assistants and activity coordinators, there are many ways you can contribute to life at Notaro Care Homes without joining us as care staff, with the opportunity available to cross over into different departments if you are interested.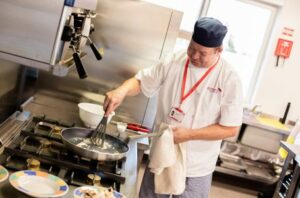 Training, development and career progression are just as important to us as they may be to you, which is why we regularly encourage our team to go above and beyond the necessary qualifications to progress into more senior roles and higher pay bands, no matter the level you join us at – and we are more than happy to introduce you to our team members who have done just that!
Through regular catchups and consultations, we help every Notaro Care Homes staff member become the strongest they can be and offer several exciting benefits which reflect just how wonderful our team is, with the Blue Light Card being just one of many benefits available – a service that gives discounts both on the high street and online to cardholders. We also hold regular chats to discuss what more we can offer, ensuring that you're working towards benefits that are beneficial for you.
Ready to make a change? All our latest job roles can be found and applied to right here on our website under 'Careers', or you can get in touch via calling our head office on 01934 317586 (from 9am-5pm Mon-Fri), emailing your CV to jobs@notarohomes.co.uk, or finding us on Facebook and sending us a private message. We look forward to hearing from you!