While they are missing all their friends and relatives, residents are keeping busy and continuing to be active in the home.
Clarence Park are keeping busy with wonderful new range of activities!
Residents have started to do weekly 'makeovers' as part of Spa Day, which is very popular with residents. Spa day involves full manicures with hand massages, make-up application and visits to the home's salon for hair washing. They also have foot spas available and foot massages on request!
The lovely back garden is being enjoyed after its makeover by staff and residents. It is now a beautiful space to enjoy the plants and flowers that were donated from B&Q. They have been having afternoon garden parties with games; enjoying the sunshine most days.
Garden games have included bowling, boules, beach balls, parachute and traditional pub games like magnetic darts and a swing skittles board.
Card games and dominoes have also been popular and many new friendships formed while enjoying the gardens.
Clarence Park has been making good use of the internet. They particularly loved the 'virtual concert' performed by local 'Britain's Got Talent finalist', Marvin. Residents sent him a lovely message thanking him for his concert from his lounge, and he gave staff and residents a 'shout out' on his next show from his home which everyone loved!
Clare, activities Coordinator, is now starting an exciting course on 'art therapy.' So residents have loved trying out zentagles and mandalas!
Knitting and crochet are also making a comeback.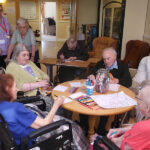 Residents have enjoyed creating a model farm. And not knowing what to do with their final product, they called Ben, Children's Minister at St Paul's Church. He would love to take on the farm for the children to play with when things get back to normal.
Ben also suggested some other wonderful creative projects that residents are looking forward to starting soon!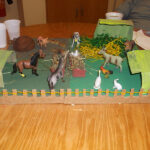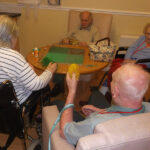 Please follow our facebook and twitter page to keep up with our news.