Immacolata House share recent news update…
Macmillan Coffee Morning
Residents, friends and staff of Immacolata baked an amazing variety of cakes. Residents' families and friends joined them for a morning of fundraising, socialising and eating cake.
The cakes were put into a competition and the winner was, Ben domestic assistant, with a delicious Victoria sponge. One of his Nan's own recipes.
Well done Ben. The morning raised £65 for Macmillan Cancer Support.
Knit n natter
Some of the residents have started a new knit club called, knit n natter. They are making squares for babies blankets…
Kiddley Divey
A new entertainer, Kiddley Divey, put on a lively and stimulating music session for the residents. Everyone enjoyed her entertainment and have booked her again, right up to Christmas!
Lytes Cary Manor
Residents make the most of the sunshine and visit Lytes Cary Manor.  A Medieval Manor House with beautiful landscaped gardens, for tranquil walks along the river Cary.
Live Music
Musician, Joe Ferdinand entertains Immacolata House with his live music…
Chris Clarke entertains on 'National Smile Day'
Immacolata house had a fun afternoon (May 2018); spent singing, dancing and 'smiling' with the company of Chris Clarke..
---
Matthew 'Rocks'!
Matthew Rock is a vocalist keyboard player, with over 20 years experience. Rocking shows after shows playing all genres of music.
Residents had a wonderful afternoon of his entertainment…
King Ina school St Patrick's Day
King Ina spend the afternoon building their relationships with the residents, with a St Patrick's Day themed colouring in activity…
Little Pips St Patrick's Day
Residents make shaving foam sponge paintings for St Patrick's Day with the residents…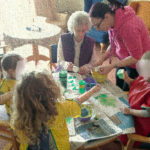 Monday meander at Barrington court
Barrington Court is a National Trust empty Tudor Manor. Residents enjoyed a walk round the property and it's beautiful grounds…
Remembrance Service
Immacolata House held a remembrance service in memory of past residents (7th March 2018). Families and friends attended the service, which was held in Lucia lounge with Rev Scott conducting.
Afterwards, balloons were let off for each person that had past away, followed by a cream tea and time to reflect.
---
St David's Day
Celebrations for St David's Day (March 1st 2018) started with making paper 3D daffodils with King Ina School Pupils. Then baking delicious welsh cakes in the afternoon…
---
Archie Project continues with King Ina School
Wednesday 21st February 2018, Immacolata House enjoyed another visit from King Ina School in Somerton for the Archie Project..
---
Archie Assembly
Wednesday 7th February 2018. Immacolata House visited King Ina School to take part in the Archie Assembly; all the children dressed as 'Archie' the Scarecrow..
---
Drums
Immacolata House had a fun afternoon (February 2018), making lots of music with drums. A Big Thank You to Primrose from Reminiscence Learning for supplying the drums..
---
Rainbow for Archie
A beautiful rainbow appeared over Archie's garden in Immacolata House…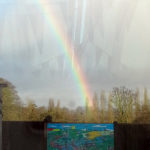 ---
Big Garden Birdwatch
Now experts in making their own bird feeders, the residents made even more; so to attract wildlife into their gardens. And, most importantly, to take part in the RSPB's Big Garden Birdwatch.
---
An afternoon in 'Blue Hawaii'
It may have been raining in Langport, But the sun was shining in Hawaii!
Residents transformed their lounge into a cinema and enjoyed an afternoon with Elvis Presley in Blue Hawaii!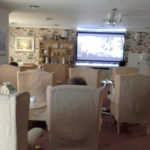 ---
Archie Project
Immacolata House had their first Archie meeting with King Ina School from Somerton.
The children had made some lovely handmade gifts for the residents. And they enjoyed a lovely afternoon getting to know each other and playing games.
---
Bird Feeders
Some of the residents got together to make bird feeders. They mixed bird seed with suet and allowed them to dry hard in containers with a string to hang them.
Once they were ready and good enough to eat, they were taken in the garden and hung up for the birds and squirrels to enjoy.
"The residents enjoyed the 'seeds' of their labour whilst watching the wildlife feed." [Caroline, Activities Assistant]
---
Christmas Jumper Day
All those that wore a Christmas jumper, took part in a catwalk to show case their jumper, and therefore were judged on the favourite.
Consequently, Sam V (Resident's husband) won the competition with his Penguin jumper.
---
Christmas Party
Residents were joined by their loved ones today to have an afternoon of fun. Which included a buffet lunch was provided, with Musical entertainment and a raffle which was drawn.
---
Poppy Service
Immacolata House went to the remembrance service at Huish Episcopi Church in Langport. Residents really enjoyed watching the service and reminiscing about their past experiences. Then they each placed a remembrance cross to pay their respects…
---
Firework paintings
Residents enjoyed using recycled toilet roll holders to make firework paintings. They also enjoyed reminiscing about firework displays and family traditions.
---
Halloween activities
Residents took part in lots of great activities to celebrate Halloween;
Halloween bingo
Halloween bowling
Baking Halloween biscuits
Halloween memory games
Making & decorating chocolate apples with Little Pips
---
Halloween Arts & Crafts
Residents made Halloween pumpkin prints using an apple cut in half and dipped in paint (17th October 2017)…
---
Little Pips
Immacolata House and Curry Rivel primary school are going to be working together over the summer holidays from the 25/07/17 – 29/08/17.
Residents are going to be going to Curry Rivel primary school every Tuesday for a hour and taking part in activities with Little Pips, who are preschool children.
Therefore this is a new link for Immacolata House and Curry Rivel preschool to allow residents and preschool children to interact together.
Previously, Curry Rivel primary school children in year 5 have been working with residents to find out their life story. This was with the Archie Project which has been really successful with residents and children forming a bond together. Therefore, Immacolata House are very exited to see how the younger children, who are between the ages of 2-4 years interact with the residents.
---
Gardening Club
Curry Rivel Primary school and residents have been working together during gardening club, that takes place once a month. Residents and the school children planted vegetables, herbs and seeds.
As a result, their first vegetables which they have grown in the garden were ready to be picked (15th June 2017), which consequently was chard.
Elaine, Chef, picked and cooked the chard which the residents enjoyed with their supper.
---
Archie Project
Over a number of weeks, Curry Rivel school children in year 5 and some of their residents have been working together to complete a life story book. Therefore each resident was paired with a child and given a life story book to complete. The life story books cover topics such as; Family, Food and drink, Working life and Music.
Residents attend Curry Rivel Primary school to receive their finished Life Story Books (9th June 2017). Finally the children who were working with each resident took it in turns to present their books and gave the residents flowers.
---
Kelways Inn
Residents went out to Kelways Inn in Langport for lunch (6th June 2017). Because the first Tuesday of every month Kelways offer carers to bring residents for lunch and the carers go free.
"Residents really enjoyed the social interaction with staff at Kelways and other people who were at the pub." [Immacolata House Activities Team]
---
Magical Memories
Magical Memories came to Immacolata House to provide musical entertainment (5th June 2017). Their entertainment consists of two singers, husband and wife. Residents loved using musical instruments most of all, to interact with the singers.
---
Arts & Crafts
Residents enjoyed an afternoon of colouring in (2nd June 2017). 'Outdoors' was the theme and they worked in a small group, all helping each other to colour their pictures.