The Limes were preparing for festivities when the Christmas Elves gave them a shock…
While preparing for Christmas, decorating the Limes Unit, the Christmas Elves gave them a shock with their new arrival!
Last year, the elves were sent back to the North Pole, as what the Limes thought were two boys! However it seems they were incorrect, as they returned with a baby elf!
Everyone at the Limes were very excited to welcome the new member to the Elf family. Although this does spell triple trouble!
So far, it's the adults of the family that have been causing trouble! With an 'Elfie sarnie'! And melting poor Frosty the Snowman!!
Elf decided to be a part of the famous Coca-Cola advert, buy climbing squishing inside an empty litre bottle.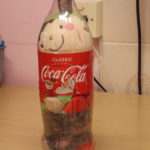 On arriving to work today, the staff noticed the chocolates had gone missing, it wasn't long to find out who was the naughty one !!
Elf is now feeling really sick, and has taken to his bed, where he requires monitoring.
Due to the amount of sickness an appointment has been made for the "ELF CENTRE…"
While the elves had gone a little quiet, after the chocolate binge. The Limes Unit threw their annual Christmas Party and welcomed a very special guest! (Maybe another reason for the elves to be on their best behaviour!)
Father Christmas came to town, and gave presents at the party!
The Limes unit residents together with their loved ones enjoyed the buffet on offer and getting into the festivities…
Summary
Article Name
Christmas Elves return to the Limes
Description
Christmas Elves return to the Limes.
Publisher Name
Publisher Logo