Immacolata House attend their 'Our Picnic' Exhibition at LangFest…
Immacolata House, Portcullis and Ashley House all took part in a project with the theme 'Our Picnic'.
Over the weeks, Residents were busy making cakes out of clay, colouring in drinks labels, and making leaf imprints on paper and clay.
Finally today (16th September 2017) The residents got to see and celebrate their finished exhibition.
Most of all this project was to bring the community of Langport together and show that with help and support, what amazing things we can all achieve.
---
Immacolata House residents take part in their second activity with Mary Kembery yesterday (10th September 2017.)
Mary Kembery, artist and founder of Somerset Countryware, is supporting Immacolata House residents and other local care homes with art activities. To create an Exhibition especially for LangFest17.
In their second activity residents finish all of the clay work and colouring in. So to be ready to display at LangFest 17 this weekend.
The clay project is Inspired by the 'painting for the weekend' theme of Bruegel's Harvesters.
Immacolata House and the other Care Homes taking part with Mary are creating the wonderful 'Our Picnic' Exhibition. And will be on display in The Stuckey Room, Bow Wharf, Langport on 16th and 17th September!
Please come along and enjoy residents creations, the event is free –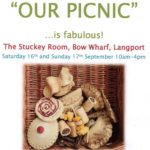 ---
Residents last week (1st September 2017) make clay tiles with leaf imprints and clay cakes in their first activity with Mary.